PDF Password Remover Download
Download PDF Password Remover to Remove PDF Restrictions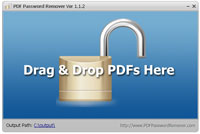 PDF Password Remover will allow users to remove protected PDF restrictions, so that they will have the ability to convert, print and modify protected PDF files.
Size:
2.9 MB (Win) 10 MB (Mac)
Win OS:
XP/Vista/Win7/Win8/Win10/Win11 or Later
Mac OS:
OS X 10.8 or Later
Download:
EXE (Win)
|
ZIP (Win)
|
DMG (Mac)
Buy a License for Windows
|
Buy a License for Mac OS X
FOR ONLY $29.95 USD!


More About PDF Password Remover
Protected PDF files are not new to us. We all have encountered PDF files which cannot be printed or converted, and it brings us a lot of headache. PDF Password Remover is a shareware tool that allows us to unlock PDF documents, remove the PDF password, and give us full access to the document.
Removing the restriction from protected PDF files through
PDF Password Remover
is possible on
Windows and Mac OS X
. It is a special tool designed for Windows and Mac OS X users which can decrypt encrypted or restricted PDF files. Without this tool, you cannot modify, print, or convert restricted or password protected PDFs. Simply click on the specific download buttons for each to immediately start your download. Once the download finishes, install the software on your computer.
PDF Password Remover
also has a
Win Portable Version
. This is a zip file that does not have to be installed on a PC. All you need to do is to unzip the files to a folder and then run the PDF Password Remover .exe file. A portable version simply means that you could save your program to a portable disk, much like how it works on a flash disk drive. After which, you can copy and utilize the program on any computer you own without the need to install it.
As soon as you get this tool, you will be able to remove any password that is preventing you from accessing, converting, or printing your PDF files.
Note: PDF Password Remover can not remove the user password, that means if you can not read or open the PDF, you will not be able to remove the password and restriction.
Reviewed by Taimienphi.vn (in Vietnamese)
Reviewed by MadDownload
- Decrypt and Unlock Password-protected PDF Files
Reviewed by SoftLay
- Best PDF Password Remover Tool for Unlocking PDFs on Windows & Mac