PDF Password Remover Giveaway
PDF Password Remover (Win & Mac) Time-limited Giveaway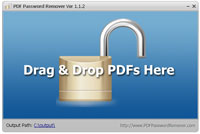 Name:
PDF Password Remover (Win & Mac)
File Size:
2.54 MB (Win) 10 MB (Mac)
Win OS:
Win 2000/XP/Vista/7/8/10 or Later
Mac OS:
OS X 10.8 or Later
Original Price:
$29.95 USD
Now for Only:
$0 USD !
This giveaway has been closed on April 10, 2016.
There are a lot of PDF files can not be printed or converted, that means those PDF files have been protected. PDF Password Remover is a shareware tool to remove PDF restriction from protected PDF files on Windows and Mac OS X.
Note: PDF Password Remover can not remove the user password, that means if you can not read or open the PDF, you will not be able to remove the password and restriction.